Come wind down from one holiday and ramp up for another!
It all happens at Stay Gold this very night!
1910 E Cesar Chavez
Austin, TX 78702
The Forgotten Prophets will expound upon their Rock'N Roll sound at 10pm followed by the songs of Ali Holder, interpreted by herself with The Forgotten Prophets. It will be a night to warm your hackles and loosen your tackle!
https://www.facebook.com/events/2028243010733127/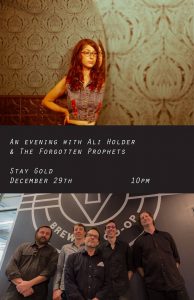 Music will reign until 1am so bring your boots!